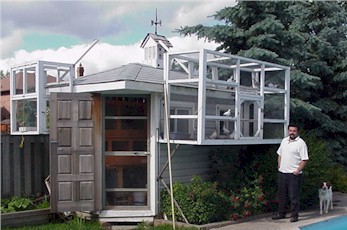 Adjacent to his swimming pool, Nino's birds get a good view of the loft from above.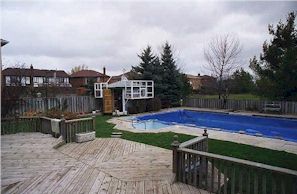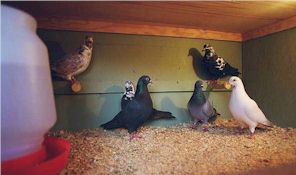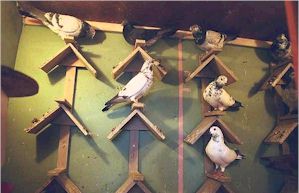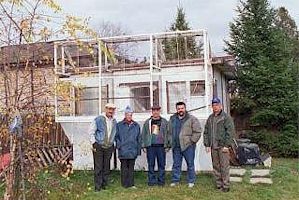 At the home of Ross Morden, from left to right:
Oskar Zovich, Harry Smith, ???, Nino Bugeja, Stan Ogozalek

The Team that held the
North American Young bird Record
16 hours 19 minutes!
The pictures of the birds in the cage are the same birds taken (1) day after the race of June 17/00. They flew 16HR 19MIN. They also flew 16HR 9MIN on June 3/00 in the Honor System. On May 20/00 211-213 were part a kit of five that flew 12HR 38MIN. This was the first try. 207 the Black Hen was added after this fly, she was in my second kit of first rounders.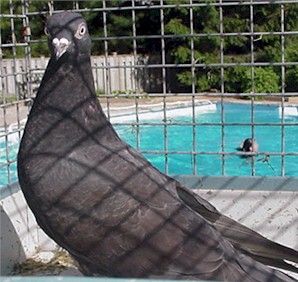 Black hen CNTU 207-00 Well balanced bird of good moderate size, good head, near perfect eye, good length of face, well let down on leg, flat keel, handles like a dream, in my opinion a top notch hen: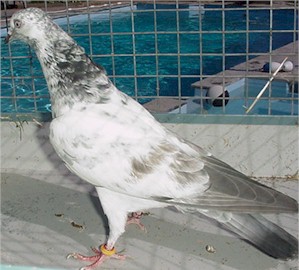 Grizzle cock CNTU 213-00 Well balanced bird of slightly larger size then I really like. Up on leg more then I really like, but fits this bird because of it's large size. Good head, moderate length of face, long in body, flat keel, a nice bird generally.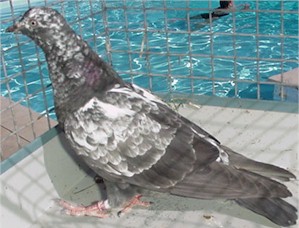 Block Mottle hen CNTU 211-00 Long faced bird of good moderate size, slightly wider chest then I like when viewed from the front, legs well let down, good body length, flat keel, a good bird generally.
---
Nino's report of the 16:19 fly:

At 4:40 AM my timer Oskar Zovich checked the band numbers of the three birds. I made a comment to Kemo Basic that the plan was to release at 4:45 AM, but the weather was not with us. When Oskar and Kemo arrived at my home, they found me in the coop tending my birds with a fine rain falling. All three Tippler men knew the weather conditions were far from ideal, (fine rain, no wind and a dark clouds cover) and this was the Long Day Fly. Oskar was holding two birds and I had the third. I gave Oskar the signal to toss the birds and Oskar recorded the time at 4:56 AM. It was still fairly dark, one bird split at toss time and I felt that I was in trouble, but he picked up the other two birds within one minute and all three birds headed off into the dim light. The fly was on. Sometime later Kemo commented on how strong this kit was. Kemo wished us lunch and had to leave to end to other matters.

Around 9:00 AM the weather began to clear and things looked better for the fly. Between 10:00 to 10:30 AM the wind had picked up and the three made a comment, "They fly more like old birds, solid and strong." Later in the afternoon Kemo returned and commented that the birds still looked strong and were flying very well. Kemo stayed until the late afternoon and then left to attend his own birds. long time Tippler man, Danny Kinnear, came by about 6:00 PM and commented on how strong the kit looked. Around 8:00 PM Oskar asked, "Nino do these birds ever fly above your loft at all?" I replied, "Oskar, when these birds are in the fly mode, they ramble far and wide hardly ever looking to the loft." At 9:03 PM the three birds were still on the ramble and looking like nothing was going to slow these birds down.

At 9:10 PM Oskar told me to get my dropper birds ready. I was getting concerned because nighttime was settling in on us and these birds were not trained to the dark. At 9:15 PM, Oskar told me to throw droppers for them. First bird down at 9:21, PM second bird at 9:22 Pm and the third bird at 9:27 PM.

After the birds were checked and confirmed, while handling each bird, it was obvious to all of us that the birds were in tremendous condition and could have flown much longer. these birds were bred down from Oskar Zovich's family, a touch of Hughes, Ross Morden's family and of course my own family of birds. These tipplers are truly "CANADIAN DELIGHTS"

I would like to give special thanks to Oskar Zovich for giving up half his sleep, all his day and all his evening to time these birds. I would also like to thank Kemo Basic for giving up his sleep and arriving at my home at 4:30 AM. Last but not least I would like to thank Danny Kinnear another great tippler man for his support of these birds and the tippler sport in general. These are great tippler men.

Nino Bugeja (Oakridge Lofts)