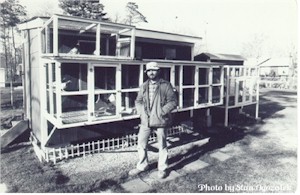 Here is Ed in front of his loft. Ed started in pigeons in 1965 but it was "Pop" Buraczewski who told Ed in 1967 to 'get rid of those racing pigeons and get some REAL flyers'. Ed has been a big part of the Tippler world ever since then.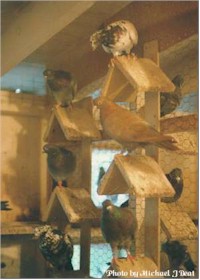 Here is a sneak view inside the Cock's section. As you might imagine, the birds were in excellent condition and feather. Ed has a few different strains. With such a rich background, experience, and foundation, Ed enjoys Tipplers like the best.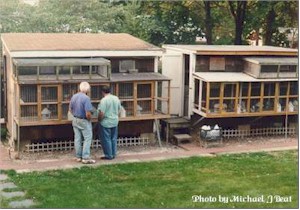 Ed's loft is made up of two lofts. The main one on the left was constructed with the help of Bob Kenedy in 1974. In this loft the Left section is the flying section. The breeding section is in the right. Young birds are flown from the center section.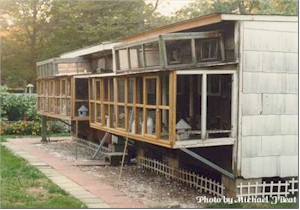 The right loft was added later which belonged to the late Don Zink (another well-known Tipplerman of Long Island). In this loft, Ed breeds Bronzes in 3 sections on the right. The Center is again used for settling young birds and then after they have settled Ed moves them to the left.
Notice how well ventilated the lofts are. Elevation from the dirt enables proper air flow and dry conditions to exist. This is necessary for a good Tippler Loft.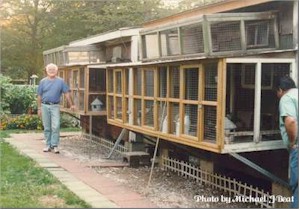 As you know, Ed has been with Tipplers for some time now. As is shown here, Ed's loft has withstood the test of time for many years. The loft has been basic design that has lasted for a long time. Keeping tipplers does not take a supper fancy nor complicated loft but one that is well ventilated and comfortable for both birds and owner. (John Pezzuli of Manhattan is viewing the loft from the side.)