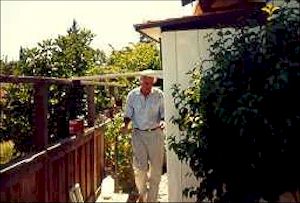 Don Dickinson's loft is situated on the side of a hill (his home is also, for that matter. Pictured here is Don in front of his loft. The loft sits up against the house and his landing pad is the "whole roof" The birds can't miss it.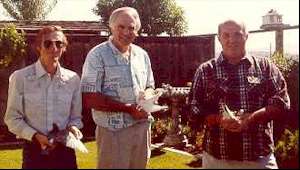 Three tippler fancier's are prepared to release the team: Richard Kehrer on the left, with Don in the center and the master of gang-flying, Laszlo Molnar on the right. Up Up & AWAY!!!!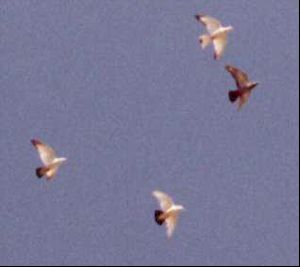 .... and away they go! Don's team is certainly a nice looking bunch of birds. The traditional dark colors on tail and wing-tips help to identify the well-known Tippler pattern called "print".
---
Don has flown in FTS young bird competition several times.
Notice his consistency in the hours:
| | | | | |
| --- | --- | --- | --- | --- |
| Time | DATE: | Series | No | Old or Young |
| 7:34 | 12/90 | Winter 1 | 5 | Young Birds |
| 7:18 | 10/90 | Fall 3 | 7 | Young Birds |
| 7:04 | 9/91 | Fall 2 | 5 | Young Birds |