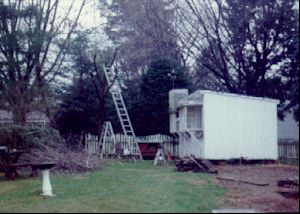 Richard Seabridge has a tippler loft situated in his back yard amongst many high trees. For good tippler flying, a clear view of the loft and a good approach for landing is the best way to have it. Night flying in such a situation would be difficult because the birds would have difficulty in "fixing" their position of the loft if they can't see it.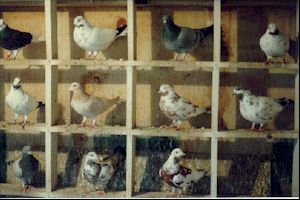 Here is a photo taken from Richard's loft of stock hens. Notice that the Lovatt strain that he has had for many years comes rich in colors and varieties. With Lovatts, two colors mated together will produce a third & fourth color very easily.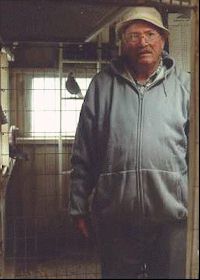 Here is Richard Seabridge inside his loft. Notice the clipboard? That's immediately accessible because accurate record keeping is one of the things that American Tippler Flyers tend to faithfully stick to. Below are some of the Records of Richard while he flew with the Flying Tippler Society. For many years before the FTS, Richard flew good times in the Flying Tippler Association.
---
Here are some of the times that Richard has flown in the FTS:
| | | | | |
| --- | --- | --- | --- | --- |
| Time | DATE: | Series | No | Old or Young |
| 16:22 | 5/94 | Spring 3 | 5 | Old Birds |
| 16:12 | 5/93 | Spring 3 | 5 | Old Birds |
| 15:29 | 5/94 | Spring 2 | 6 | Old Birds |
| 15:23 | 5/88 | Spring 3 | 7 | Old Birds |
| 15:07 | 5/93 | Spring 2 | 5 | Old Birds |
| 15:07 | 4/94 | Spring 1 | 5 | Old Birds |
| 14:15 | 4/93 | Spring 1 | 5 | Old Birds |
| 13:48 | 9/94 | Fall 1 | 6 | Young Birds |
| 13:35 | 9/94 | Fall 2 | 6 | Young Birds |
| 13:30 | 9/93 | Fall 1 | 7 | Young Birds |
| 13:11 | 9/93 | Fall 2 | 7 | Young Birds |
| 13:08 | 10/94 | Fall 3 | 6 | Young Birds |
| 12:54 | 10/93 | Fall 3 | 7 | Young Birds |
| 12:45 | 9/87 | Fall 1 | 6 | Young Birds |
| 12:37 | 9/87 | Fall 2 | 7 | Young Birds |
| 12:36 | 10/87 | Fall 3 | 7 | Young Birds |
| 12:08 | 10/92 | Fall 3 | 5 | Young Birds |
| 11:57 | 10/93 | Stock Fly | 11 | Young Birds |
| 11:47 | 10/87 | Stock Fly | 8 | Young Birds |
| 9:32 | 6/94 | Long Day | 5 | Old Birds |
| 9:14 | 6/93 | Long Day | 5 | Old Birds |