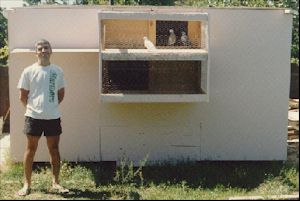 Emil Vardeh enjoys flying in the Flying Tippler Society's flys whenever he can. As is the case with most Tippler flyers, they gain a lot of satisfaction and joy with seeing the birds fly high above. Emil has also dabbled in other flying breeds such as Iranian Highflyers.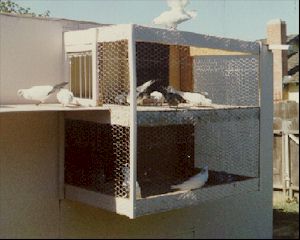 Here is Emil's fly pen and trap. Notice the dropper on the top of the fly pen (a fantail) which is very important. No tippler should be allowed to land on the loft (or anywhere) without a dropper present on the roof. This conditions the birds the "await" the signal before dropping.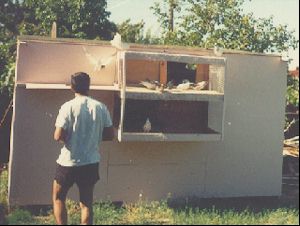 Emil Vardeh is here dropping his tipplers. As can be noticed, it is very important that the birds have a very peaceful relationship with their trainer as it can be so easy to startle the birds into the air once more. If this should happen, it could prove very bad in the long run as disqualification can occur if the birds are not dropped on the competition within one hour from the initial dropping signal.
---
Here are Emil Vardeh's times as he's flown with us in the Flying Tippler Society:
| | | | | |
| --- | --- | --- | --- | --- |
| Time | DATE: | Series | No | Old or Young |
| 13:24 | 5/96 | Spring 3 | 3 | Old Birds |
| 13:06 | 4/97 | Spring 1 | 3 | Old Birds |
| 13:00 | 5/96 | Spring 2 | 3 | Old Birds |
| 12:15 | 5/94 | Spring 2 | 3 | Old Birds |
| 11:40 | 4/97 | Open | 3 | Old Birds |
| 11:03 | 5/97 | Spring 2 | 3 | Old Birds |
| 11:01 | 4/96 | Spring 1 | 3 | Old Birds |
| 10:47 | 7/94 | Summer 2 | 4 | Young Birds |
| 10:41 | 10/93 | Fall 3 | 3 | Young Birds |
| 10:23 | 6/95 | Long Day | 5 | Young Birds |
| 10:08 | 4/93 | Open | 5 | Old Birds |
| 10:06 | 5/93 | Spring 2 | 3 | Old Birds |
| 10:03 | 4/91 | Spring 1 | 4 | Old Birds |
| 9:52 | 4/92 | Spring 2 | 4 | Old Birds |
| 9:39 | 5/94 | Spring 3 | 4 | Old Birds |
| 9:20 | 5/92 | Spring 3 | 3 | Old Birds |
| 9:05 | 7/91 | Summer 2 | 3 | Young Birds |
| 9:04 | 4/95 | Open | 3 | Old Birds |
| 9:02 | 4/95 | Spring 1 | 3 | Old Birds |
| 8:43 | 2/91 | Winter 5 | 3 | Old Birds |
| 8:42 | 5/91 | Spring 3 | 3 | Old Birds |
| 8:25 | 6/95 | Summer 1 | 4 | Young Birds |
| 8:24 | 10/91 | Fall 3 | 3 | Young Birds |
| 8:08 | 3/97 | Winter 4 | 3 | Old Birds |
| 7:41 | 5/91 | Spring 2 | 4 | Old Birds |
| 6:43 | 9/91 | Fall 2 | 4 | Young Birds |
| 5:50 | 2/95 | Winter 4 | 3 | Old Birds |