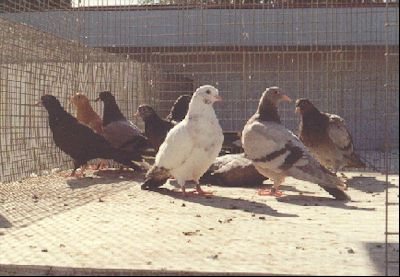 Notice in the fly pen consisted of two doors for entry. The swinging door on the backside and the swinging door on the front side (which was held open for this photograph). This would enable birds to freely walk about the roof and enter the fly pen area. By having this "open door policy" the birds were never afraid to trap. Another wire-doorway on the left wall allowed birds to enter the loft. After the birds were enclosed into the fly pen, the door to the loft was opened and the birds driven or raced down inside for their tid-bits of malted barley.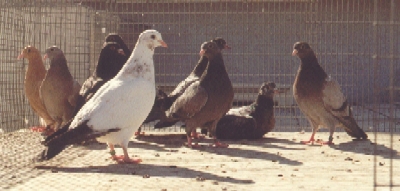 When the young birds were about 4 weeks old they can be placed into the fly pen situated on the roof. The birds could then observe their surroundings and learn their home.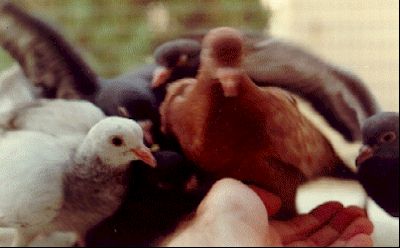 When young, the birds should be very accustomed to their trainer & not be afraid. By hand feeding them when young, you gain their confidence. My young bird team of 1992 flew into the teens of hours but also dropped into the loft looking for their tid-bits. When I entered the loft after a fly, they would often fly onto my person, landing on my arms, hands, & shoulders.