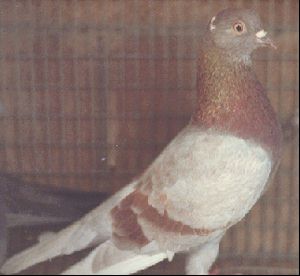 This hen was raised by Richard Kehrer and as the mother to the Red Bar Spread that flew the 18:05 minutes. She was from a red bar "mealy"marked cock that Suki Bains had raised in his loft. One day while visiting the loft of Richard, I spied this young bird flying in his team of a color I had never seen in tippler before. This red bar hen was very shallow keeled and different in type to my Lovatts. However, every youngster she produced was not only of unusual color and character, but also a sound flyer.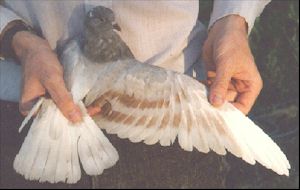 This was the day I picked her out of the "air" and talked Richard in to letting me take her home. That's Richard Kehrer holding her out. At that point we didn't even know her sex.
I would say the lesson learned: pick your birds right out of the sky--in that way you know that they fly.