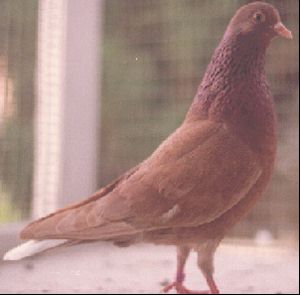 This Cock, #950 FTS 1990 flew a good 16 hrs 03 min on the long day of 1991. This bird flew with its half-brother 935 & half-sister 1001 pictured below. All three were from the 3795 foundation hen also pictured on another page.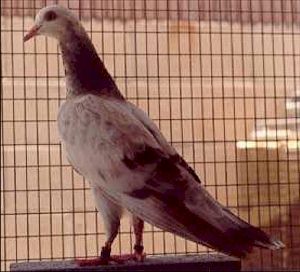 This Hen, #1001 FTS 1991 was a flying machine. Although the photo here is not a very good one, it shows how strange this bird came out. Rather "storkey" if you ask me! She was only a young bird in 1991 when I needed a replacement for my 3 bird kit. I choose this hen because of her non-stop flying habits. She joined the team well. On that Long Day of 1991 (although she was only a young bird of which I didn't even know her gender) she flew with her full brother and half-brother proudly for the full term including an hour in the dark. Of course, she was the one who gave out at the end of the fly, but for a young bird, flying with two older cocks, she was remarkable!
[missing photo of 935]
This space saved for the "one and only" El Segundo Cock, #935. This bird, now owned by David Fuller, has quite a story. He was lost as a young bird in October of 1990, retrieved a few weeks later in El Segundo California, and then re-trained to fly the following year in my 16:03 kit. The El Segundo cock was very tame and affectionate. He would jump onto my hand on his own accord while in the loft.